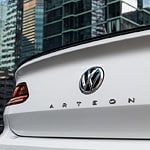 Sioux City locals will love how the Volkswagen Arteon is built to cater to their every want and need. This all-new fastback is rich with design features that provide optimum levels of both comfort and convenience. At Volkswagen of Sioux City, we want shoppers to know just how impressive these features truly are.
The Arteon's easy-open, hands-free trunk is perfect for the dedicated shopper. With this feature, you don't have to fumble around with your keys while juggling your packages. Simply passing your foot under the rear bumper while holding your keys in your purse, hand, or pocket will cause the lock to disengage and the door to swing open.
The cutting-edge Climatronic auto climate control system provides zoned heating and cooling for up to three interior areas. This means that you don't have to swelter just because another passenger is cold. This system can deliver cooled air to those who need it, and warm air to those who want it. Drop by Volkswagen of Sioux City to test drive the Volkswagen Arteon today.