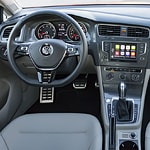 With the gas prices at the pump constantly fluctuating from one week to the next, drivers are looking for ways to be more fuel-efficient, and we want you to be an educated driver on how to save gas and money. While we may not have control over what we have to pay for gas, there are ways you can control how much you save on gas and money. Come to Volkswagen of Sioux City for some fuel economy tips.
Large vehicles use more fuel, so consider downgrading to a smaller, more fuel-efficient vehicle if possible. And, avoiding erratic driving, sudden stops and starts, and exceeding the speed limit also aids in providing better fuel efficiency. Instead of making several short trips, we encourage our drivers to make one long trip. In the summer, roll down the window instead of using the AC that further heightens your fuel consumption. And finally, use good tires designed for your vehicle and make sure they are properly inflated.
Regardless of what type of vehicle you're driving, it is possible to save more money and increase your fuel economy. Pay our store a visit in Sioux City and allow us to service your vehicle.