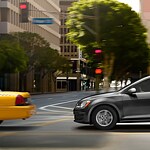 If you're looking for the convenience of a hatchback and the comfort of a premium sedan, the Volkswagen Golf will definitely appeal to you. You can explore the latest Golf line-up today at Volkswagen of Sioux City and find out why one deserves a place in your garage or driveway.
The Golf's comfortable seating and abundant tech features create a welcoming environment in which to relax and unwind. The luxurious, easy-to-maintain upholstery is available in several attractive shades, and the rear bench seat is divided for folding down in sections or all at once to increase the available cargo capacity to more than 50 cubic feet.
The low-profile exterior offers great aerodynamics while sacrificing nothing when it comes to appearance and functionality. This economy of design helps boost the combined estimated fuel mileage rating to more than 30 miles per gallon and makes the Golf a great vehicle for almost any driver.