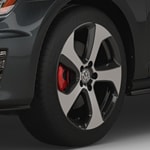 Keeping you and your passengers safe while driving in Sioux City, IA is your top priority, right? It's ours, too. That's why we're so proud to add the Volkswagen Golf GTI to our new car inventory. It's loaded with high-tech safety features to help make every trip more secure.
Let's start with the six stability enhancement systems. If you're ever in a hard-braking situation, the Electronic Brake-pressure Distribution (EBD) will provide just the right stopping power to get you back on track. Another example is the Electronic Stability Control (ESC). It adjusts the engine throttle and makes needed corrections to the wheels when you need them.
In the event of a collision, automatic safety measures are engaged by the Intelligent Crash Response System (ICRS). It shuts off the fuel pump, activates the hazard lights, and unlocks the doors as a precautionary measure.