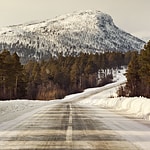 At Volkswagen of Sioux City in Sioux City, IA, we are always thinking about the most important items to add to a winter survival kit. If you are a winter driver, it is essential to make sure that you always have survival items and tools in your vehicle if you get stranded.
Some of the most important things that you should have in your vehicle if you get stranded are jumper cables and something to quickly fix a tire such as a can of air. Also, it is important to have water and food as you can quickly get dehydrated in the winter without knowing.
A warm blanket, as well as food, are important especially if you have passengers that are sitting still and waiting for you to contact help or fix the vehicle. Also, a portable battery charger, as well as jumper cables and a shovel, are important.